Are you having a hard time deciding whether to convert your loft or extend your home? The cost of conversion and extension depends on the type of property and your priorities.
Price of square metre
A basic single-storey home extension typically costs around £1,500 to £1,900 per square metre while a simple roof light conversion starts at £1,150to £1,350 per square metre. But a dormer loft conversion could cost £1,250 to £1,450 per square metre while more complex options may range between £1,350–£1,550 per square metre.
Although the homeowner's choice usually comes down to the price, there are more things to weigh in before concluding which one is a cheaper choice for you. In this article we'll sum up different factors that are worth considering when choosing between a loft conversion and home extension and we'll breakdown the estimated cost for each to help you figure out the most suitable option for you.
Factors to consider when choosing between extension and loft conversion
Although a loft conversion is generally cheaper and takes less time to complete than a new house extension, there are three things you need to consider:
1. Which option offers a long-term value?
According to the National Building Society, a loft with two bedrooms and a single bathroom can add 20% value to a three-bedroom, one-bathroom house. However, you also need to think it through because overdeveloping your house and making it a mega home will add no value if the ceiling price in your street is unbreakable. Buyers would unlikely buy a £600K house in a £300K street.
2. Do you need more bedroom or living space?
If your kids start to outgrow the box room and want a peaceful and quiet place that's away from the hustle and bustle from the downstairs, a loft conversion can be a better option for you. It can also be transformed into a studio, study room, or a guest room for your relatives during the holidays. You could even rent it out to gain some profit once your kids eventually leave home. However, if you're looking to create a bigger living space, an extending sideways can be more beneficial for you. So, factor out what do you need more and what you want to prioritise.
3. Which option is the most suitable for your home?
Anyone with an attic can have a loft conversion under the permitted development because the structure is already built so you won't have to build from scratch. Since there is less structural work compared to a house extension, the cost will likely become less expensive. Moreover, planning consent may not be required, thus, reducing the expenses and time in completing the project.
But even if extensions are more costly than loft conversion, they ace the competition in terms of design possibilities. You can use it as an extra kitchen or living space or anything you wish.
The key thing to consider with extensions is that it may not be done as quickly as you'd like, and that a lot of time is spent waiting for planning permission and other small details.
Loft Conversion Cost vs Home extension Cost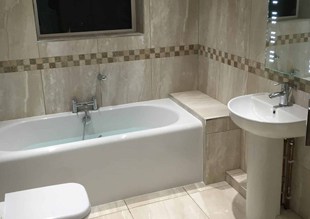 House extension involves a complicated job, including laying the foundation, building walls plastering, electrics and plumbing and decoration and creating additional features like a new kitchen. All these works affect the cost, but the size of the extension plays the most crucial role in its pricing.
As mentioned above, a single-storey house extension can range from £1,500 to £1,900 per square metre. Therefore, a 20msq extension (4m x 5m) can cost around £30,000 to £38,000.
You may be able to find builders that offer a lower price bracket of £1,100 to £1,400 per square metre but bare in mind that it depends on the variance of material used, the complexity of the design, quality of finish and your location. But the latter cost does not cover the kitchen installation, which on average, can range from £5,000 to £6,000.
On the other hand, a loft conversion's price is influenced by the structure of the roof, the size and type of the transformation and the level of internal finish you require. For example, if you're looking to create a bathroom in the attic, it will involve more work like plumbing, and you will have to spend on sanitaryware and fixtures.
A simple Velux attic conversion starts at £15,000 while the dormer type of conversion ranges from £20,000 to as much as £35,000. Complex modifications like L-shaped, mansard, and hip-to-gable can be more expensive with a price bracket of £42,000 to £60,000 or more. These types usually involve more structural work, but they can also maximise the space in your home.
Note that these prices do not include the VAT, which is usually charged at 20%.
Pros and Cons of a Loft Conversion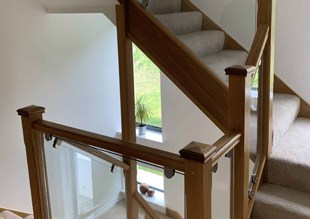 Converting a loft can bring you a lot of benefits. Aside from increasing the value of your property by up to 20%, Loft conversions are recommended throughout Wales & England as great ways to improve home value, here are other advantages of this type of project.
Cheaper cost compared to an extension (will vary depending on the area and complexity of the job)
Less construction time
Usually, no planning permission required.
Additional space for an extra bedroom, studio annexe or study room
Plenty of feature designs that you can create
Simple to carry out and can be completed in just several weeks
On the other hand, these are the drawbacks of converting a loft:
Building regulations must be met
You may need to give up some storage space in your attic.
Pros and Cons of a House Extension
Extending your home sideways can also help you gain additional space and other benefits, including the following:
You can split it into two levels/ storeys.
Additional space for kitchen, living room and more
It can also add value to your home.
But just like a loft conversion, extending your home also has its drawbacks which may include the following:
More costly than a loft conversion
It will eat up space in your garden.
Wiring and extension cost more.
May require planning permission.
In big and crowded towns and cities, it may be not easy to extend your home outwards. In this case, converting the loft is more practical and doable and may be a cheaper option. But since the price brackets mentioned above will vary significantly depending on different factors, it would be best to compare different quotes for extension and loft conversion before making up your mind.